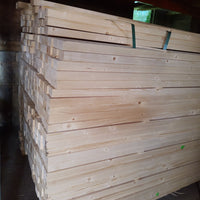 CLS Timber (75mm x 50mm)
CLS stands for 'Canadian Lumber Standard'.
CLS was originally manufactured in Canada for use in the building of timber framed houses, hence it's name.
CLS timbers are imported from both Canada and Europe and used for internal studding, partitions, framing etc. CLS is produced from kiln dried spruce (whitewood), planed and finished with eased edges to precise tolerances and are graded C16.
Due to plaining, please note the finished sizes of CLS are much smaller than the nominal (ie pre plaining) sizes.